Hello-hello,
Welcome to the Baserow AMA on automation with a top Certified Zapier Expert and #1 Zapier Community contributor.
Here's a short instruction on how to participate and ask questions.
Step 1: Go here: AMA on automation with Troy Tessalone - Baserow.
Step 2: Click on the button 'New Topic':

Step 3: Type your question including a short title. You are not limited in the number of questions to ask, but please keep one question per one topic.
Step 4: Click on '+ Create Topic' button here: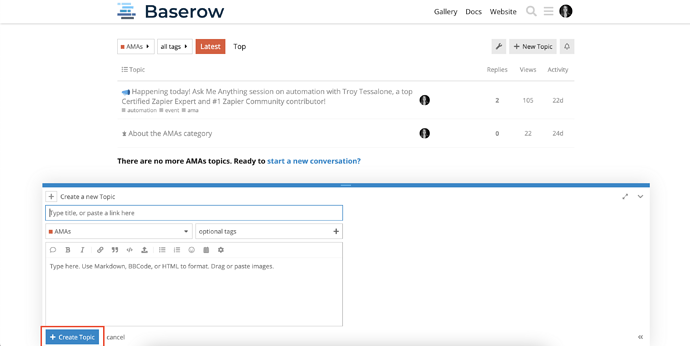 That's it! Now you need to wait a bit until @troytessalone responds to your question. You can also ask follow-up questions to Troy's response.

A quick reminder! This event doesn't have any virtual component. And we'll start the event by publishing questions that were asked beforehand, I'll be posting them.