Hello hello!
New month, new digest. Here's everything you need to know to stay up to date on all things Baserow:
Community spotlight
First and foremost, we would like to thank our community members who have been actively sharing their feature ideas and feedback with us over the past month. @dynnammo, @frederikdc, @computersrmyfriends, @Harsh, @verifybudi, @deet, @LumenYang @ESMP, @bfranklin, @guiolmar, @Alexander, and @philipcristiano: your input and contributions mean the world to us. Continue with your activity.

Here are some cool new things our community created:
→ @frederikdc posted insights on how to use your browser inspector to detect API endpoints and payload in Baserow.
→ @lucw open sourced his plugin that adds complex custom field types to Baserow.
→ @nigel shared a tip on how to increase your Baserow's performance in 1.17.2 using SQL caching.
→ Elestio did a video overview about Baserow.
News and announcements from the team
Release 1.17
We've released Baserow 1.17, and now sorted tables with 5 million rows are up to 100x faster, resulting in a smoother experience. Table load time, scrolling, sorting, filtering, and editing on Baserow.io is up to 3x faster. We also added new features to Calendar view and ARM Docker images.
Have you noticed the difference in Baserow's speed? Let us know in the comments (our developers would be extremely happy to hear your feedback).
Speed improvements overview by @bram
As we already mentioned, Baserow now is up to 3x faster thanks to a long list of under-the-hood upgrades. In this video, our co-founder and CEO, @bram, delves into what changes and improvements we made. Give Bram some feedback in the comments regarding how you like this type of video

Baserow AI: what value does it bring to YOU?
To ensure that Baserow delivers real value with AI, we want to hear directly from you. How do you envision AI working in Baserow? Where do you see it being most useful?
Please fill out this 2-question form to help us determine the best application of AI in Baserow.
Ambassador program
Are you interested in becoming a Baserow Ambassador to help educate others on how to get the most out of Baserow?
Sounds interesting.
Too busy to take it on.
Need more details.
We're curious to see how you feel about this possible initiative

Collab with AppSmith
We partnered with AppSmith to build a PDF generator app, so you can create PDF docs with the Baserow data in minutes.
Start building your first PDF files from the data you have in Baserow data right now.
Leave us a review on Capterra
Help us to stand out in the crowd of SaaS tools listed on Capterra, and give others the encouragement they need to start using Baserow. We'd appreciate if you leave us a review.
Baserow in Mallorca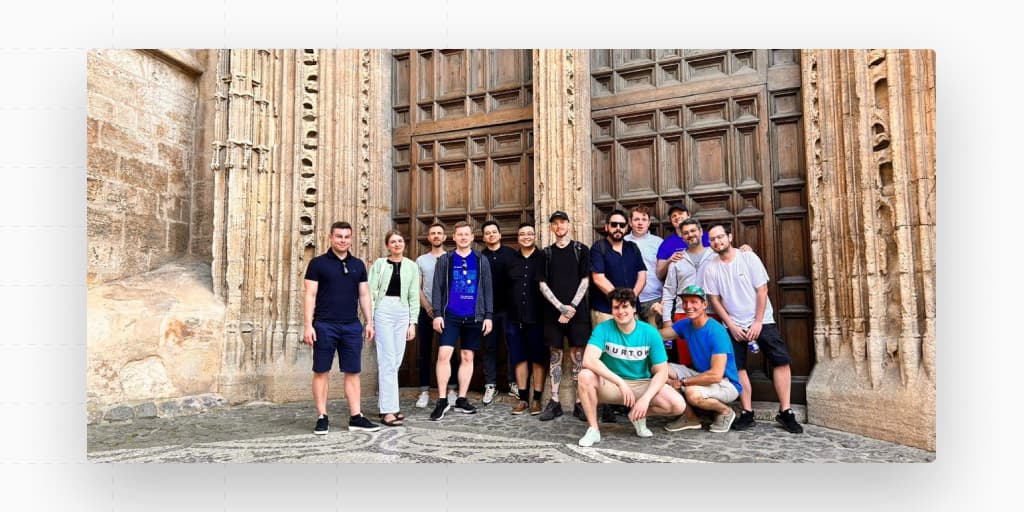 As a remote-only company without offices, we love meeting in person and spending quality time together. We spent the first week of May in Mallorca to get to know each other, connect, and exchange ideas. These were wonderful days of fun activities and lively conversations.
Baserow is hiring full-stack developers! Apply here.
Other useful resources to check out

Listen to a podcast with our co-founder and CRO, Olivier Maes, about Baserow leveraging open source for creating scalable no-code database. (Heads up: the podcast is in French

)


Check out how Baserow compares to Airtable pricing.


Discover how to generate unique IDs with Baserow formulas.


Check out a new workflow on how to create new rows when Amazon Alexa trigger phrases are spoken.


Learn how to sync Google Sheets and Baserow with Zapier.


Figure out how to use Baserow data in your Appsmith application.
That's it for today! Have a great weekend and take care

Warm regards,
Olga