Community spotlight
@Harsh, @frederikdc, @joffcom, @marcus, @dangngocbinh, @IndieSellersGuild, and @lucw thank you for being active in the community by asking questions, helping others, and actively publishing your feature ideas. We appreciate your involvement.

We also want to say a huge thank you to our latest code contributors — Mansur Kutybayev, Jibé Le Stück and Shohan Dutta Roy. Many thanks for contributing to improving Baserow! Your enthusiasm is highly appreciated.

If you're a developer looking to contribute to the Baserow code, check out this list of good first issues.
Here are some cool new things our community created:
→ Saul created a demo on how to build a React CRUD app with Baserow database integration.
→ [Portuguese] @claudiobalbino recorded a video tutorial on how to sync booked event data on Cal.com with Baserow using n8n.
→ [French] Dominique Silvestre explained how to automate bank transfers with Make, Baserow, and Qonto in a complete guide.
→ @0xJJW built a plugin that allows for sending AI-generated messages in his Baserow address book directly from ChatGPT.
Reminder! You can always enable automated subtitles when watching a video on YouTube.
News and announcements from the team
Release 1.18
Last week we shipped a new round of features and improvements! New features in Baserow 1.18 include:

Count field: allows you to count the number of linked rows in a link-to-table field.


Rollup field: takes the count field one step further, enabling you to make manipulations with the linked data as sum together all the values from the linked rows or return only the maximum value.


Improved pasting capabilities: automatically create rows when pasting more rows than available.
For full details, please visit this blog post.
Advanced plan free trial
Explore the benefits of a Baserow Advanced plan for free. When you sign up for the free trial, every function and feature offered in the paid plan is available to you for 30 days.
Note that you can only sign up for one free trial per workspace, and all your workspace collaborators will have access to paid features during the trial period.
To try out Baserow's advanced features, select "Get free trial" in your dashboard. Alternatively, you can enable the free trial by clicking on the locked features.
Tour de France du NoCode à Paris!
Baserow will participate in the final stage of the NoCode Tour de France in Paris on July 11th. For our French-speaking members, we invite you to come and listen to Baserow's co-founder and CRO, Olivier Maes, during the event. Details and registration can be found here.
#1

in FOSS Awards

We were recently ranked #1 for the open source, self-hosted project management tool in the 20i FOSS Awards list!

We are honored to be ranked among the top open source companies. Thank you once again for your support.
Mentions sneak peek
Here's a sneak peek into an exciting new feature that @davide is currently working on. Stay tuned for more information coming soon.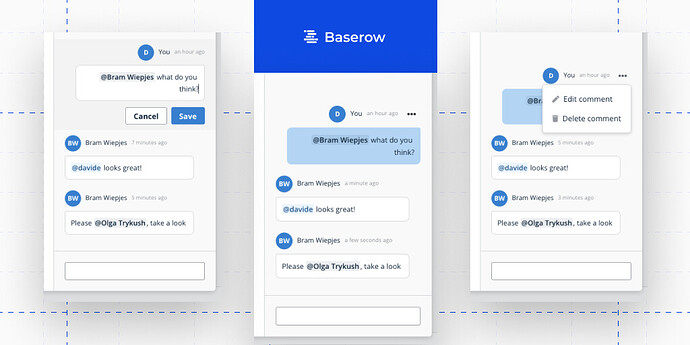 ncScale integration
ncScale has recently released a new observability feature, which is also available for Baserow, yay! This feature provides real-time, no-code asset management, including dependency mapping, repositories, readmes, tag features, and more. Check it out here.
Pingflow & Baserow visual management tool
Pingflow and Baserow visual management tool has already saved more than 700 hours of manual work per user per year for companies like Groupe Atlantic.
Check this post to find out how no-code tech replaces tedious manual data capture with smart, connected systems and helps manufacturers achieve operational excellence in months rather than years.
Call for use cases
We are on the lookout for Baserow customer success stories! In which ways has Baserow impacted your business? Tell us!
Simply fill out a short form with a few questions, and we'll spread your story across Baserow channels.
Interested? Send me a direct message, and we'll work out the details.
Other useful resources to check out

Check out how to link Baserow rows in bulk with automation.

Get insights on how to automate document creation with Baserow and Google Docs.

Discover how to increase your Baserow's performance using SQL caching.

Compare Airtable vs. Baserow with the ultimate showdown.

Automate your workflow: sync Google Sheets and Baserow with Zapier.
That's it for today! Have a great day and take care

Warm regards,
Olga