This is very weird. I set up a new instance of Baserow on Heroku a couple of hours ago. Free plan 10k rows. Should be fine. I left it as i wanted to come back and then about an hour later i got an email like so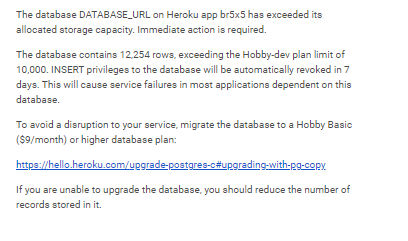 I didn't do anything apart from add an API KEY, but not connected to anything. very strange. Can anyone advise what might be going on?
btw, when i go in to my baserow instance, there are 3 tables, each has no more than 4 records. It's very strange.
This is from Heroku, but I'm not seeing it in my Baserow version. this all happened within 2 hours, no connections, webhooks or APIs set up.

Thanks in advance