Hello everyone,
A new month means a new Baserow community digest!
Exciting news is on the horizon

… can you guess what we're up to?
Website rebranding
Platform design updates
New tool
All of the above
You'll find out the answer at the end of the post… but first, some important news.
Cool new things our community created

Test out this Domain Name Checker powered by Baserow.

Discover a NodeJS Baserow client (fully in TypeScript) built by @tomaskazatel.

Check out this video tutorial on how to create a click list - stock app with Kodular and Baserow recorded by Thiago LowCode.

Congratulate @lucw on the soft-launch of his project 'The Online Spreadsheet for Language Learning' built on top of Baserow, introducing custom field types.
News and announcements from the team
Release 1.19
Last week, we released version 1.19, which includes several new collaboration features such as @-mentions, a notification system, and the ability to edit and delete comments. Additionally, Baserow now supports deployment on AWS, and we have improved search speed by 3X.
In our announcements, we tend to focus on the big new features, but each release also includes several smaller updates to enhance your Baserow experience. Say hello to:
→ Sort by lookup. @petrs added the possibility to sort the Lookup field type based on the looked-up values from the linked table.
→ New colors. @bram added four new color options for row coloring, single select fields, and multiple select fields. This brings the total number of color options to 40, instead of the previous 15.
→ Line breaks. @petrs added line breaks in the text area of a form view to improve the readability of field descriptions.
→ New filter is after days ago was added by Sabeeh (our new dev) for filtering records within a specified number of past days.
→ Field name and ID are now included in the Grid view heading contexts thanks to @peter_baserow. Similar to how IDs are displayed after application/table/view names, they are now shown for fields.
Get the full scoop of everything

New templates
Thanks to @frederikdc and @HiramFromTheChi, the gallery now has 7 new templates. These are Frederik's first templates, so let's take a moment to celebrate


Advertising Campaigns


Company Advertising Campaigns


Furniture, Fixtures, and Equipment Manager


Household Chores


Non-emergency Call Center


Tourism Agency Manager


Venture Capital Investments
Founder chat
We have launched a new initiative called Founder Chat. Every week, @bram answers a question about how we do certain things in Baserow and why.
We've already discussed:

What goes on the Baserow roadmap?


How does the development team work?


What's Baserow's underlying tech stack?
Join the discussions and feel free to submit questions for future weeks here.
Baserow is nominated for the Computable Awards 2023
We're excited to be nominated by Computable Awards 2023 in the list of best Tech-startup in the Netherlands!
Please cast your vote:
Step 1: Go to: Awards | Computable.nl and fill out the form.
Step 2: Check your mailbox and click on the link provided.
Step 3: Find Baserow in the list Tech-startup and hit Submit.
The page is in Dutch, but the process is straightforward and can be followed even by non-Dutch speakers. Please help us make it to the final nominees in October.

Baserow is hiring a Baserow Specialist!
If you have experience building with no-code tools, this is the perfect opportunity for you. Check out the job listing and apply now.
All recommendations are also highly appreciated.
Upcoming changes
A lot of exciting changes and news coming in the next couple of months, so "All of the above" is the correct answer to the poll.
Our community will always be the first to know. Take a look at these amazing new designs of the views in Baserow. Our frontend engineer, Jonathan, has already started updating all the elements in the platform, so very soon you'll see them live: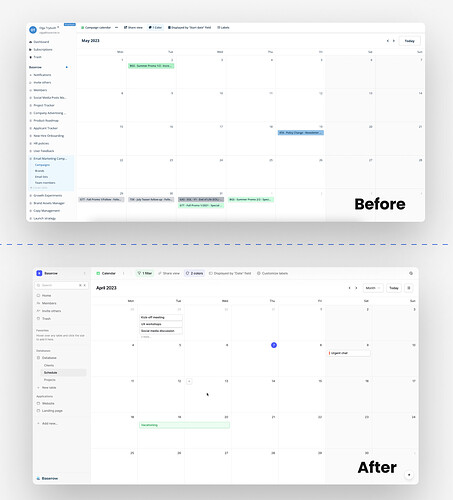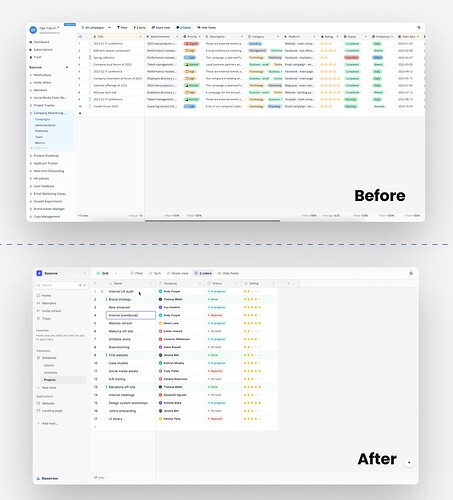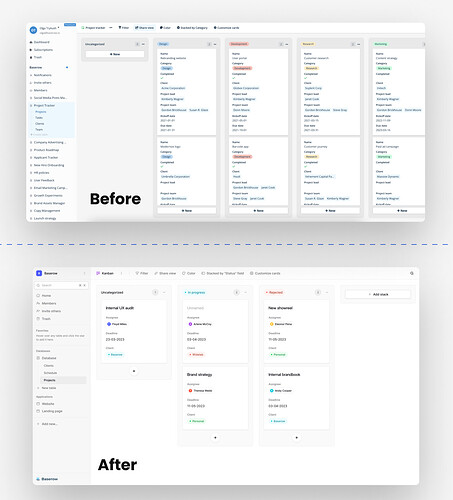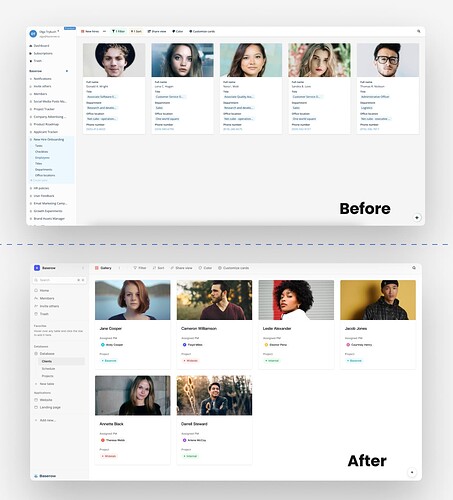 Tell us in the comments what you think about the new designs

Other useful resources to check out
→ How to build a content calendar in a no-code database
→ How Baserow boosts marketing campaigns with a custom UTM builder
→ Streamline collaboration and review process with database automation
→ AI in the workplace: 10 things no code can tell us
That's it for today! Have a great day and take care

Warm regards,
Olga