Hey there!
This digest will bring you up to speed on some of the most exciting and important things that have been happening at Baserow over the past month. We have a lot of news and updates to share with you, so let's dive right in!
Community spotlight
This month we were amazed at the amount of contributions we received from the community. @lucw, @frederikdc, @anon59363363, and @dynnammo — thank you all for putting so much efforts and sharing what you #MadeWithBaserow.
@abdolsattar, @Riz, @asan, @deet, @bfranklin, @Alexander, and @marcus: thank you for your activity in the forum. All community questions, feedback, and feature ideas are greatly appreciated, always.

Cool new things our community created

@frederikdc created a responsive web application for city tours and recorded a series of videos that show step-by-step how to build it with Baserow and Appsmith.

@lucw shared his experience and tips for building a Baserow plugin in this step-by-step tutorial. This plugin introduces custom field types for the Vocab.ai project, an online spreadsheet for language learning.

@anon59363363 has created an awesome collection of solutions and ideas for building web apps/plugins using Baserow on GitHub.

One of our users used Baserow as a backend to power a new project called Domain Name Checker. It uses JavaScript to check the availability of domains based on a table and displays the results.
News and announcements from the team
Baserow 1.20
Baserow 1.20 is live, which brings you:
→ Email notifications
→ Workspace-level audit log
→ Search in the Calendar view
→ New shortcuts
And a bunch of smaller, yet important updates!

Check the release announcement for more details.
Baserow is going to Paris
From October 10-11, we'll be in Paris at No-code Summit. Come meet the Baserow team, snag some free merch and listen to speeches of our founders. We also have an exclusive 20% discount on ticket prices for our community! Simply use the discount code BASEROW20 when purchasing your tickets.
Baserow Ambassador program
We haven't officially launched our Ambassador program yet, but we wanted to share the news with our community before making the announcement elsewhere.
In a few weeks, we'll be opening up the program. As an ambassador, you'll have exclusive access to behind-the-scenes glimpses into our development process and receive special perks. These include the opportunity to attend calls with the Baserow team to ask your questions and learn more about our vision and plans for the future, financial support for organizing events, and of course, special swag.
If you're able to dedicate 3-4 hours per quarter to support Baserow, please fill out this form.
Webinar: Democratizing data access to create high-performance teams
Join our upcoming webinar on September 26th to learn how to democratize data access and increase productivity. In this webinar, you'll learn about strategies, best practices, and tools to empower team members with data-driven insights, enabling them to make informed decisions and optimize their performance.
Founder chat
In the last few weeks, we have been discussing the following questions with our founders:
What else would you like to learn about Baserow internally? Submit questions here, and either Bram or Olivier will cover the questions in one of the upcoming volumes of Founder Chat.
Baserow is nominated for the Computable Awards 2023

Friendly reminder: if you haven't yet, please vote for Baserow in the Computable Awards 2023 for best tech startup. It only takes a minute!
To vote, please follow these steps:
Go to: Awards | Computable.nl and fill out the form.
Check your mailbox and click on the link provided.
Find Baserow in the list Tech-startup and hit "Submit."
The page is in Dutch, but the process is straightforward and can be followed even by non-Dutch speakers. Your support would mean the world to us.

Sneak peek of row grouping and row history
Great news! We've started working on the row grouping feature, which we know is something you've been looking forward to. From a technical standpoint this is a very challenging task for us because of the way Baserow is built, but we're making progress little by little and hope to release it soon: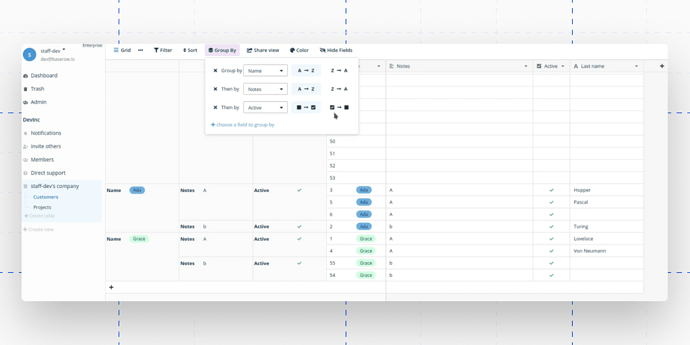 Row history is also in progress, and we plan to release it in Baserow 1.21. Here's what it looks like:

---
That's all for today! Have a great weekend and I'll talk to you soon.
Warm regards,
Olga