Hey Baserowers,
We've got a lot to share and discuss in this digest, so jump in!
Community spotlight
Huge thank you to @frederikdc who has been assisting other members with their questions about Baserow. Frederik, you have been a massive help over the last few months.

Here are some cool new things our community created:
→ Check out how to build user applications with Baserow in Bootblocks. Prepared by Deivid Rothen.
→ Watch this short video to learn how to use the inspector of the browser as API documentation. Created by Frederik Duchi.
→ Get insights on how to go from defining your project to implementing the features one by one with Baserow and n8n — a video set created by Frederik Duchi.
→ Learn a new way to update records in a form with just Baserow—no coding required. Shared by Kristi Cassidy from IndieSellersGuild.
→ Check out the notes on exporting a Baserow workspace from docker-compose.all-in-one.yml or when using ./dev.sh prepared by Nigel.
News and announcements from the team
Latest big features
In the last 2 months, we released shiny new features to help you with your date and time needs:

Calendar view


Personal views


Timezone support


today() and now() formula functions
Have you tried them out? Share your feedback in the comments!
New direction
Get a sneak peek at a new direction for Baserow

We have a new font, icon set, and refreshed colors. Plus, all of the components were redesigned from the ground up. Get a more detailed look here.

New shortcuts and UI improvements

Press Shift + Enter in a selected cell to create a new row.


Press Enter on a selected cell to select a cell below.


Select multiple cells by clicking the first cell in the range, and then hold down Shift while you click the last cell in the range.


Right-click on the row add button + to add multiple rows at a time.


Move to the previous ︿ or next ﹀ record while viewing the row edit modal.
New approach to asking tech questions
Need help with a technical question? Read this post first.
To ensure the best and fastest help, we need to have some information about your issue. Please make sure to build your request according to the suggested template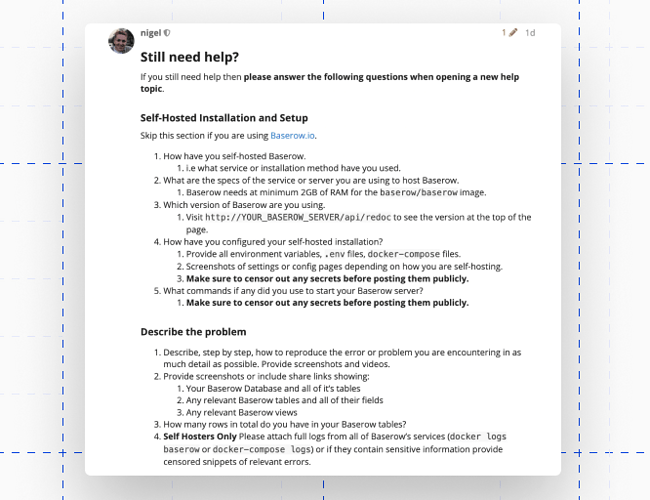 Get featured on the Baserow community page!
We recently published the Community page, which is ready to highlight your Baserow endeavors. Tell us what you #MadeWithBaserow so we can give you a shout!

Limited team availability
From May 2-5, the Baserow crew will be at our off-site in Mallorca, meaning the team availability will be limited. While we will be keeping an eye out for urgent matters, all other requests addressed to the team during this time will be delayed.
Stay tuned for the photo report from the trip on our LinkedIn account.

Baserow is hiring!
We are looking for DevOps and Full Stack Engineers to join the Baserow team. If you feel you're a good fit, apply here:
DevOps Engineer
Senior Full Stack Developer
Or, if you know someone who may be interested, share this post or send them our way.

Other useful resources to check out

How to build a directory with Retool and Baserow


10 No-Code Trends to Look Out for in 2023


How to connect to a Baserow database to Bubble


How to generate content with OpenAI's GPT-3 and Baserow


Why do we need more open source in no-code?
Have a great weekend and take care

Warm regards,
Olga